The Prepd app is not your ordinary daily planner—it stands as a revolutionary tool, offering an innovative perspective on planning and executing tasks.
So, what's the secret sauce of the Prepd app? It's the concept of 'Time Anchors.'
Time Anchors
Everyone has certain times during the day that are relatively fixed, like waking up at 6:30 am or taking lunch at 12:30 pm.
With Prepd, we slot these fixed times into our schedule as anchors and build our day around them. You don't need to set a start or end time when you create an activity and add it to a time block.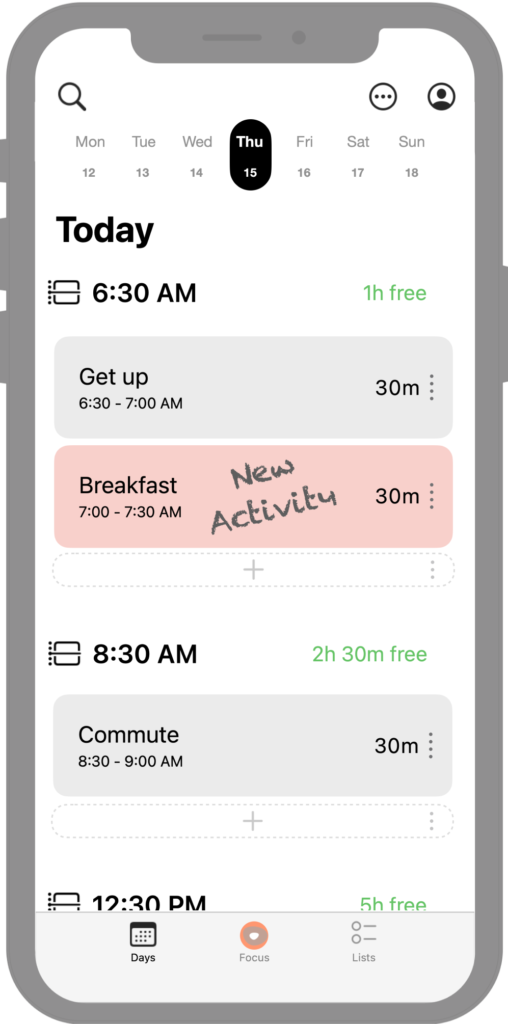 Now, all we need to do is fill the time blocks between these time anchors with the activities for our day.
This method gradually builds our day schedule and offers the flexibility to move things around easily.
But you may be wondering: how exactly are these time anchors a game-changer?
Automatic Reschedule
Since these anchors are essentially set in stone, they simplify the way we organize activities occurring before or after them.
Now, instead of scheduling start and end times for each task, all we need to know is the duration of an activity. Prepd handles the rest, calculating start and end times automatically.
Wish to reshuffle things? No problem! Just change the order of activities and watch as the app auto-adjusts all start and end times.
Another strategy for planning your day is to create a list of activities and tasks, ensuring you have at least one time anchor so your schedule knows when to start.
Recap: Prepd enables you to swiftly add significant times to your day. The rest is straightforward: add activities to fill up your day and shuffle them around as needed. Prepd will do the heavy lifting and reschedule items in your day.
It's time to switch to Prepd. Embrace tranquility as your co-pilot. Welcome to a smoother journey through your day.